Dog Diet Plan
Veterinary-guided
weight loss program
Introducing our veterinary-led dog diet plan: The K9 Weight Challenge. Created to give your dog the best gift of all...
A Life of Health, Vitality and Play!
Every dog deserves to live their life to the full. And every pet parent has the ability to make this happen!
The team at Dog Slim are passionate about helping you achieve a healthy weight for your dog.
Our vet-led dog diet plan provides expert advice. Guiding you to transform your dog's health!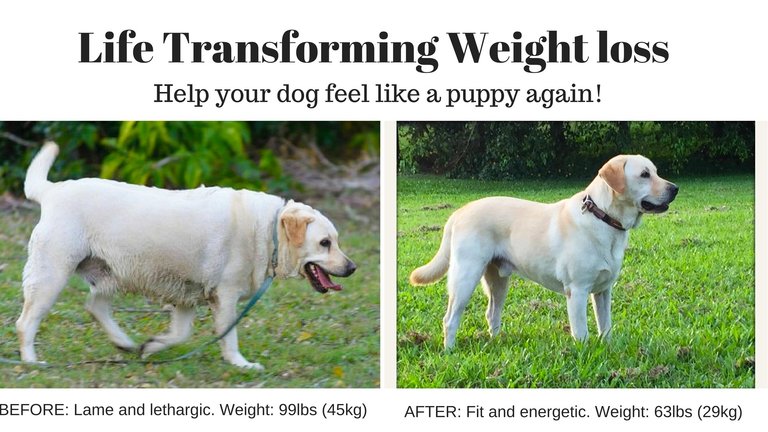 Long term benefits of our dog diet plan include:
Improved mobility and reduced aches and pains
Improved mental alertness and energy levels
Increased bonding and quality time spent with family
Improved health and reduced veterinary costs
Improved dog life expectancy - by up to 2 years!
And most importantly fun and play!
This dog weight loss program will help your dog feel like a puppy again!
"Come join me as I lead you through 12 weeks of change to make the most of your loyal companion's life! Together we can help your dog experience the ultimate in health and happiness."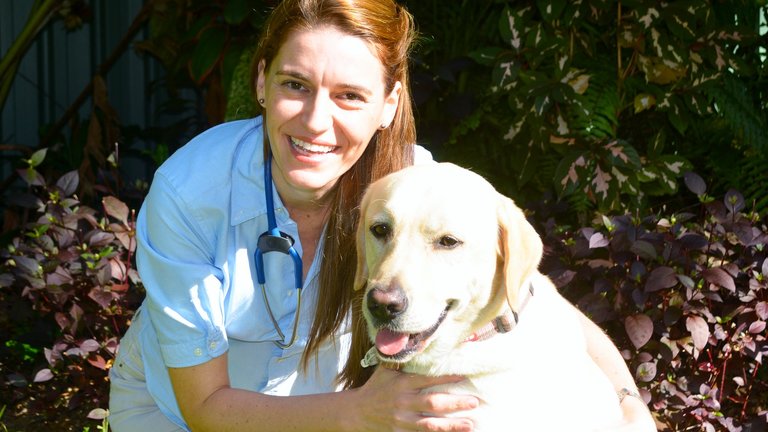 Receive Veterinary Weight Loss Advice in the Comfort of Home!
Our 12 week dog diet plan can be completed from anywhere with internet access! Access your coaching materials at a time convenient to you.
Share your journey with our online community of loving dog owners. Our course is mobile, cell phone, tablet and PC friendly.
Individualized Calorie and Portion Plans
Membership will provide your dog with individualized calorie and portion plans. Choose to use either imperial or metric measurements. Access our international dog diet food index to find the best diet food for your dog!
Your dog's calorie plan is monitored to ensure safe, sustainable rates of weight loss. Choose to feed your dog either commercial low-calorie dog food or homemade meals. And yes treats are allowed!
Enjoyable, Achievable Activity Plans
We have three activity levels to choose from based on your dog's current mobility and weight. We also provide for dogs (and owners) who are restricted by physical disability. All of our plans introduce activity in a safe, steady manner. Activity plans include a combination of walking, off leash activity and play.
Our safety-first approach means this is not a boot camp style program. We will never push you or your dog beyond your limit.
Dog Weight Loss Coaching
Besides diet and exercise, this program navigates to the root cause of our dog's weight gain. Ourselves! Our video and email series delves into the management of household factors and feeding habits that impact on your dog's weight gain.
By recognizing the human-dog bond and the importance of mindset, we create habit change. We will love our dogs in the best way possible. Devoting our time and attention to providing a healthy lifestyle and diet.
"Friends comment that Gyp looks like a new dog!"
"Overall Gyp has lost about 13 pounds which is fabulous. We've had comments that Gyp does not even look like the same dog as he did before we put him on his diet. I really do not think we could have accomplished his weight loss without The K9 Weight Challenge. Gyp is now much more active and gets very excited about his walks. He is also more heat tolerant and just the other day accompanied my husband on a 5 mile jog with ease! I have been very happy with this program and with Gyp's results." Sarah Oates and Gyp, Colorado, USA
As a member of this dog diet plan you will receive:
Access to our membership area. Home to your dog's profile page, food and activity plans, weight loss tracking tools and weight loss resource library
Online support. Join our private Facebook group to receive support from Doctor Charlotte, her team and other program participants.
12 x Weekly K9 Weight Doctor coaching videos
3 x K9 Weight Doctor coaching emails per week- guiding you step-by-step through the program
As a participant in this dog diet plan we will ask you to:
Follow your dog's calorie and activity plan closely. Update your dog's activity levels weekly.
Weigh and measure your dog once per fortnight. Update the weight tracking chart in your online profile area.
Join us to receive feedback and support through our closed Facebook group.
"Thank you so much for giving me more time with my beautiful girl!"
"I would wholeheartedly recommend the K9 Weight Challenge to anyone with shall we say 'ample' over loved doggy. My Roxy is like a different dog since starting the weight challenge, she has so much more energy, looks 5 years younger (she is a spritely 13 years young!) and moves so much easier. Roxy is losing her extra weight in a safe and managed manner. Dr. Charlotte, who is offering this assistance, is a wonderfully friendly and helpful professional vet and I could not recommend her and this program any more highly. She is always available to help Roxy with her needs and help me with the weight challenge. I cannot thank her enough for giving me more years with my beloved dog. With Roxy's weight loss I believe our time together will be a lot longer and with a much better quality of life for my girl. Thank you Dr. Charlotte, for this wonderful program and so much more time with my beautiful girl."
Jan Polaris with Roxy 13 year old Labrador x Staffordshire Terrier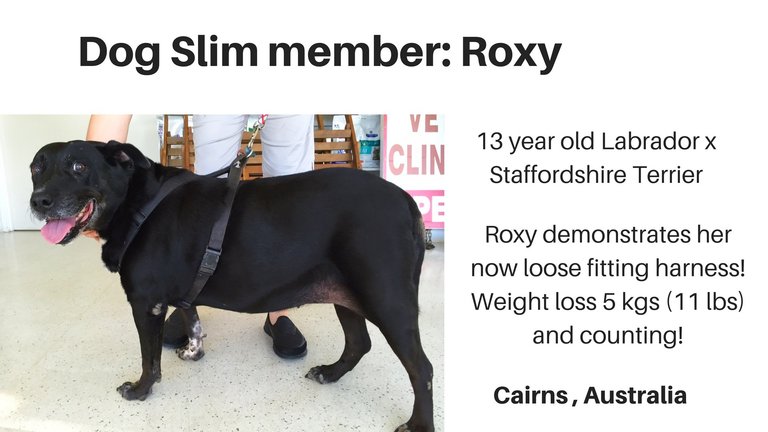 "A highly recommended and user-friendly dog weight loss solution!"
"This course is very user friendly and I have recommended it my family and friends. Thanks to this program I now understand how to count calories for my dog and I have cut back on my Charlie's snacking. I found Dr Charlotte very approachable and her passion and knowledge about dog weight management reassuring."
Sheryl McKenzie and Charlie (4 year old Labrador retriever)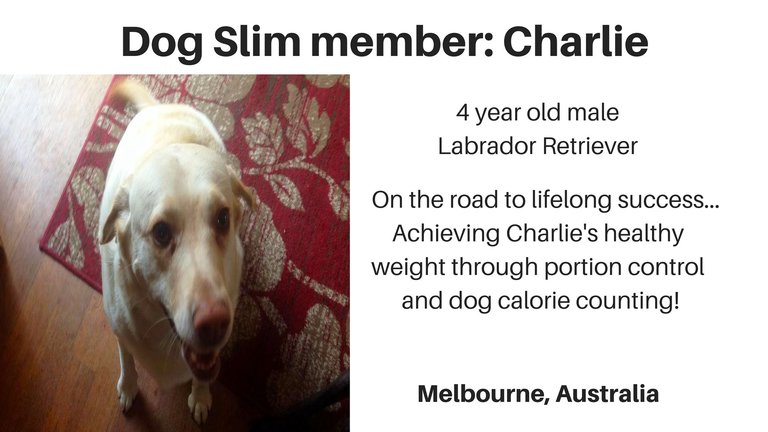 "Your best friend will thank you!"
"Our Fur Baby, Saltie, has just successfully finished his 12 week doggy weight challenge. Saltie was about 15% overweight which was contributing to Patella luxation (dislocated kneecap). Our options for treatment included surgery which would cost approximately $2000 or weight loss. We obviously opted for the weight loss option. Through Dr Charlotte Williamson's amazing and highly professional program – the K9 Weight Challenge, Saltie is now back to his healthy weight and his lameness has disappeared. Thanks to this program we've identified and overcome some of our not-so-healthy feeding habits and we can confidently say Saltie is set to stay in peak condition. I highly recommend the 12 week Challenge if you have a fur baby that is carrying a bit of extra weight."
Teresa Howard and Saltie (2 year old King Charlies Cavalier X Spaniel)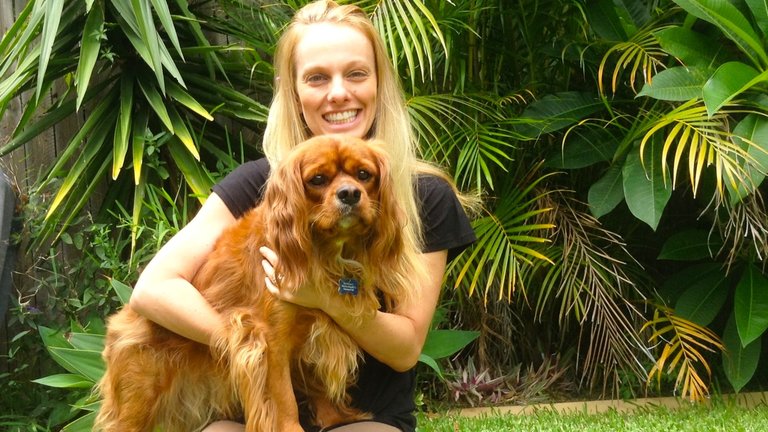 Commit to making positive change for your beloved companion...

Knowing that we'll guide you every step of the way with our expert advice and support
Increase your dog's weight loss success by becoming part of our dog loving community
A modern day solution to a modern day epidemic!
The K9 Weight Challenge is an industry leader for a reason. Everything we do is designed to increase the health and happiness of your furred friend.
Close to 50% of all dogs currently classified as overweight! Let's help your dog break free from this statistic. Come join us and let your dog experience the freedom of weight loss success!
"This program really works!"
"This program really works. Sophie looks and feels so much slimmer! We highly recommend the K9 Weight Challenge to all dog lovers. We found this program highly informative with Charlotte available to us throughout the program providing plenty of helpful advice. We now understand about proper portion control and suitable foods to feed Sophie. And as a household we've also learnt to communicate better regarding Sophie's feeding and treats. We have no hesitations in recommending this program to others."
Trish and Peter Mowett with Sophie-Margaret (9 year old Maremma X Sheepdog)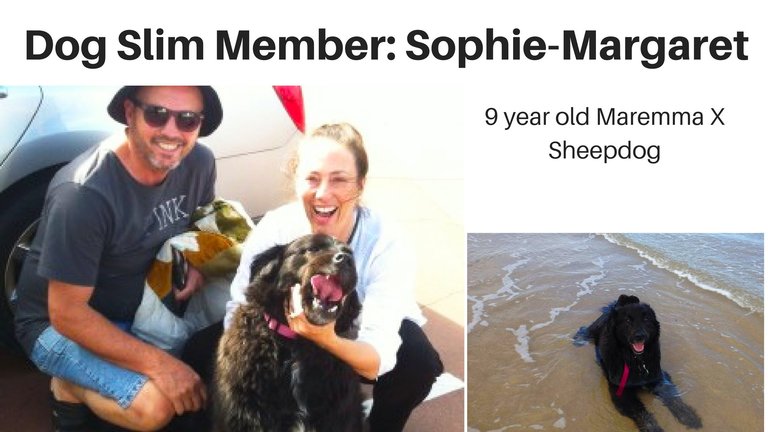 Together let's maximize the number of quality years your dog spends with family!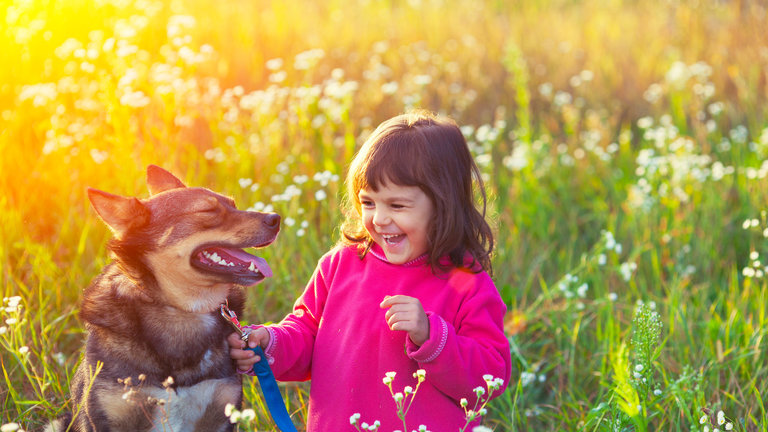 Get started today! Transform your dog's life, reduce vet bills and reward your faithful companion with the gift of health and happiness.
Just $197 (upfront) or $19.97 x 12 weekly payments.