5 Reasons Why You Need a Dog Workout Partner
Work-out partners do not have to be Lycra clad. The furred alternative can work wonders as well!
So how about enlisting the family pooch as your dog workout partner? This will make all the difference to committing to your daily exercise routine!
Here's why dog workout buddies make perfect personal trainers!
Dog Slim

Introduce your dog to a safe dog workout and individualized calorie plan. Discover more about our 12 week vet-led dog weight loss plan

1. Dog workout partners are always eager and ready to go
A dog's enthusiasm to get out and about is contagious. Such enthusiasm and positive feedback encourages dog owners world-over to walk daily.
Who can say no to such pleading expressions and adorable antics? How could you knock back the one thing your dog loves and enjoys the most?
Research agrees! Proving dog owners walk on average twice the distance of non-dog owners within a week. Dog owners also tend to have lowered rates of cardio-vascular disease and illness.
2. Dog workouts involve adventure!
Who says your walk needs to be confined to walking around the block or to the local dog park. Follow your dog workout partner's lead and explore your surrounds!
Increase the pace and physical challenge. Take part in dog friendly activities such as hiking trails, jogging, biking and swimming!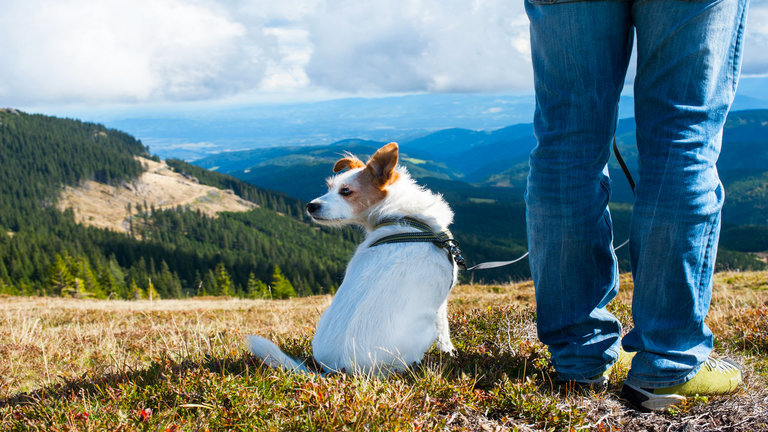 3. Dog workout buddies do not complain
Unlike many exercise partners, your dog will not bog you down in conversation or distract you from keeping to your work-out pace. Your dog will not complain about where you are working out nor will they have any social hang ups.
When it comes to being active, fun is your dog's second name. So follow in your dog's paw prints, leave your stresses behind and enjoy the great outdoors.
4. Dogs are creatures of habit
And so should you be! You won't find your dog workout partner crying off from going on a walk due to the weather or because they feel tired. Dogs are up for exercise at any time of the day or year!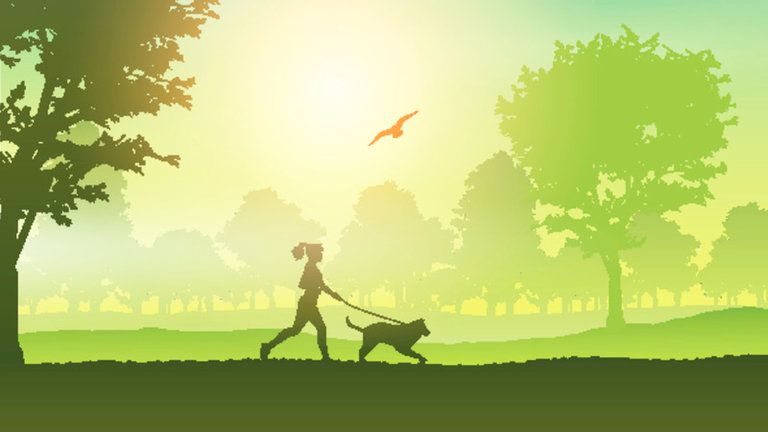 Once you start a regular dog work-out routine it's a safe bet your dog will pressure you into keeping it!
Cue for whining at the bedroom door if you sleep in. Cue for pacing around the house with lead in mouth if you are behind on walkies!
Dog Slim Tip

Share the love around! If you are without a dog workout partner offer your service to dog owning neighbors and friends. Contact local dog rescue centers in need of volunteers to help exercise dogs!
5. Dog workouts make you feel good!
Your dog will never judge your exercise efforts. Instead they will faithfully plod alongside you providing motivational support during your work-outs. View your dog as your personal fitness trainer and know that they have got your back.
Reward your dog's loyal companionship by scheduling active time with your dog each day. Feel the endorphin release and let your stress levels melt away!
_ _ _
Not all dog breeds are suited to active exercise. Check out this interactive graph from Lovejoys. It lists potential jogging partners and the amount of calories you can burn jogging with these various breeds of dogs.
Remember health conditions impact on dog activity levels. Play it safe, do your research and check with your vet before committing your pooch as a dog workout partner.
If your dog is sedentary and has gained weight, it's never too late to introduce regular exercise. However it is important to ease into dog workouts and build your outings at a slow and steady pace. Remember to keep within your dog's breed, health and fitness limitations.
When helping obese and fat dogs lose weight the emphasis should be on diet rather than exercise. Read more on this topic in this article: Should exercise be a priority when helping fat dogs lose weight?
- - -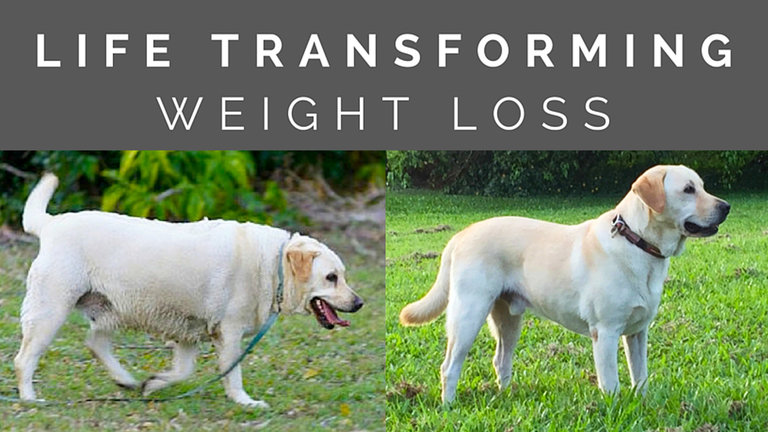 Introduce your dog to a safe dog workout and individualized calorie plan. Enroll in our 12 week vet-led dog weight loss plan.
Help your dog feel like a puppy again- your dog will shed those excess pounds and gain health, energy and play!
Intakes are now open- Find out about your dog diet plan today.