3 Steps to Finding the Best Dog Food for the Overweight Dog
If your overweight dog needs to slim down, or if you just want to maintain a healthy dog weight for your pooch while providing optimal pet nutrition, this three-step plan will help you to choose from the thousands of dog foods that are available.
STEP 1. Choose a Low Calorie Dog Food
Knowing the calorie count of the food you feed your dog is essential for weight loss. Calorie counts allow us to determine the correct serving size for a safe rate of weight loss.
Dog Diet Tip. For an overweight dog, choose a dog food containing less than 3250 kcal/kg ME. The lower the kcal count the better as long as the food is 'complete and balanced' to meet your dog's nutritional requirements.
Calorie Counting 101: understanding dog food analysis terminology
For commercial dog food, calorie content is located in the guaranteed analysis (also called dog food analysis) or feeding guideline panel on food packaging.
On dog food labels, calories are called 'kilocalories' (Kcal). Calories and kilocalories are the same thing. A kilocalorie measures the energy content of food, known as 'metabolisable energy' or ME for short.
The kilocalories are normally given for a specified amount of dog food such as a cup, a pound, 100 grams (100 g) or a kilogram (kg). For example: 3000 kcal/kg ME means that the dog food has 3000 calories in a 1 kilogram serve.
1 kilogram equals 1000 grams. So if the calories are per 100 grams and you want it per kg, just multiply by 10 to get 1 kg. (Example: 300 Kcal/100g = 3000 Kcal/kg)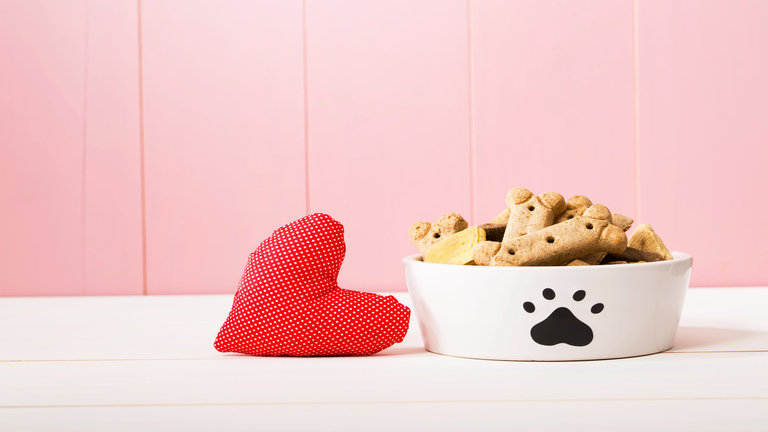 How much food should I feed my dog?
It is difficult to slim down an overweight dog with calorie-rich foods. The serving size to meet your dog's calorie allowance will be so small that your dog will feel unsatisfied, and you will feel mean. Low calorie dog food will address pet nutrition and weight loss without depriving your dog.
The feeding guidelines on dog food packaging often do not address the needs of the overweight dog. For this reason, it is best to count calories on your dog's behalf.
Diet Tip!

When buying dry or kibble diet food make sure the calorie count is in the high 2000's to low 3000 kcal range.
To do this you will need to know your dog's recommended daily calorie intake.
When dieting, your dog's daily calorie intake is determined by your dog's ideal weight.
Find out your dog's ideal weight and if your dog needs to lose weight by taking WAGSTA's free Wellness Check. This uses a 'hands on' and visual method to more accurately assess your dog's weight condition.
Alternately, you can look up the average weight for each dog breed in this dog weight chart.
Once you know the ideal dog weight for your pooch, you can calculate dog calorie needs.
If you need help converting the portions on the dog food analysis label into portions of your preference – such as kilograms to pounds, or calories to kilojoules – use these dog food calculator conversions.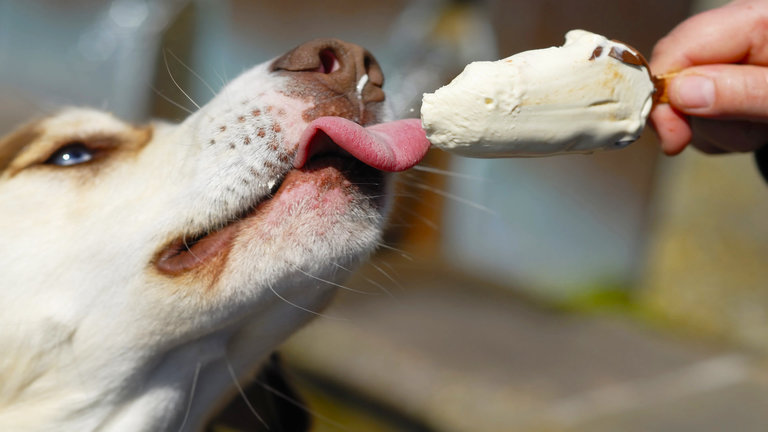 Wet dog food? Dry dog food? Homemade Dog Food?
Dry dog food is the most convenient feeding option- providing simplified portioning, storage and food hygiene. There are many quality kibble/ dry dog foods available for dog weight management. But remember, dry dog food provides concentrated nutrition, so be careful not to overfeed.
Canned and wet foods contain a high moisture content. Their dilute nature means they often have a suitable calorie content for dieting purposes. A low-calorie content (when compared with dry food) allows for the feeding of larger portion sizes.
If you'd like to know exactly what your dog is eating, you can make your own dog food using the low-calorie homemade dog food recipes at WAGSTA Wellness.
These 'complete and balanced' dog food recipes have been formulated to ensure optimal pet nutrition whilst dieting. All recipes include a dog food analysis providing calorie count and protein breakdown.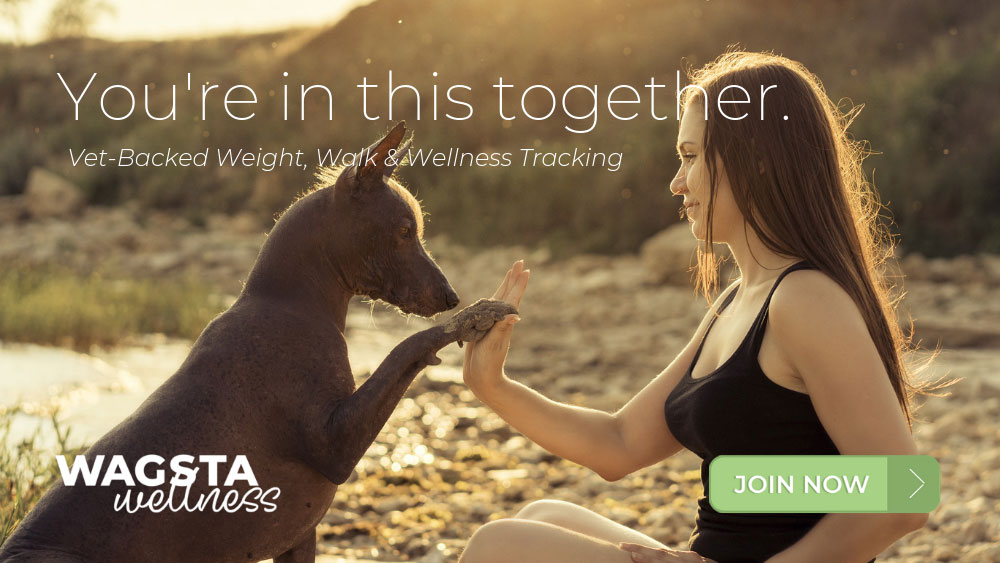 STEP 2: Choose High Protein Dog Food.
Diet Tip!

Ignore the feeding guidelines on dog food packaging as they tend to be generalized and can result in overfeeding your dog. Instead feed your dog according to their individual dog calorie needs.
Ensure your choice of dog food contains adequate protein levels for your dog's size. Your dog's protein requirement is based upon his ideal dog weight. So the larger your dog, the greater are his protein requirements.
Owners of medium and large dogs should pay particular attention to protein content when selecting diet dog foods because some of them contain insufficient protein for larger breeds.
Recommended Minimum Dietary Protein Levels Per 1000 Kcal food.
Healthy Target Weight (kg)
Healthy Target Weight (lbs.)
Minimum Protein Requirement per 1000 kcal of food.
2.5kg
5lb 8oz
45 g protein/ 1000 kcal
5kg
11lb
53 g protein/ 1000 kcal
10kg
22lb
63 g protein/ 1000 kcal
15kg
33lb 1oz
70 g protein/ 1000 kcal
20kg
44lb
75 g protein/ 1000 kcal
25kg
55lb 1 oz.
80 g protein/1000 kcal
30kg
66lb 2oz
85 g protein/ 1000 kcal
35kg
77lb 2 oz.
86 g protein/ 1000 kcal
40kg
88lb 2oz
89 g protein/ 1000 kcal
45kg
99lb 2oz
92 g protein/ 1000 kcal
50kg
110lb 2oz
95 g protein/ 1000 kcal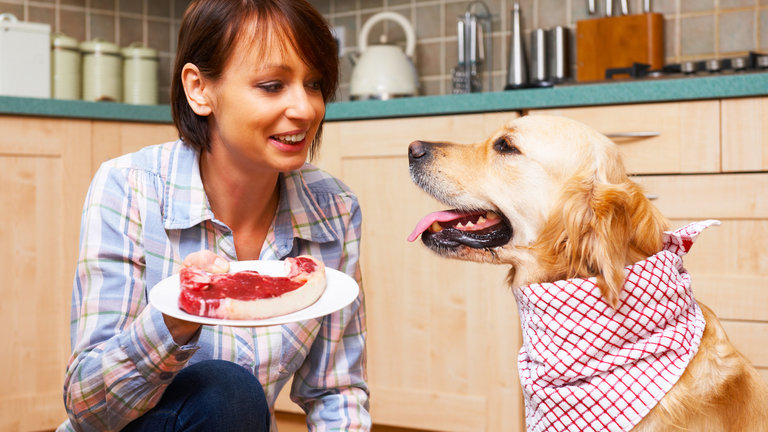 Diet Tip!

Learn to count calories on behalf of your dog!

Calories in pet foods are listed as Kilocalories (kcal).
Protein is typically listed as a percentage on most dog foods. But the dietary recommendations are normally expressed as grams of protein per 1000 Kilocalories. Confusing, right?
To convert percentages to grams manually, use this equation.
Grams of protein per 1000 Kilocalories = (% protein divided by kcal/kg ME) multiplied by 10,000.
Example: 26 % protein / 3000 (Kcal/kg) x 10,000 = 86.7 grams of protein per 1000 kcal.
Or, skip the math and use Dog Slim's protein conversion calculator.
Why High Protein Dog Food?
Diet Tip!

Protein is a key factor when identifying the best dog foods for the overweight dog. Maximize protein to optimize your dog's weight loss results!
Dietary protein is important for several reasons.
Your dog will feel more satisfied after a high protein meal making him less likely to beg for more food. Resulting in greater owner compliance with weight loss plans.
Increased protein levels help maintain muscle mass in dieting dogs, which in turn helps to burn fat.
Protein also improves the taste of dog food and provides a source of essential amino acids.
The best dog foods contain several animal based proteins in the ingredients list. Quality proteins include eggs and identifiable meats such as poultry, beef, pork and fish. Ideally there should be at least one or two quality proteins listed in the first few ingredients.
Prefer to make your own dog food?
For quality protein dog foods, use the calorie-restricted homemade dog food recipes at WAGSTA Wellness. These 'complete and balanced' dog food recipes have been formulated to ensure optimal pet nutrition whilst dieting. All recipes include a dog food analysis providing calorie and protein breakdowns.
Step 3. Understand Dog Food Labels
Grocery store and pet retail outlets all sell diet pet foods. The quality and nutritional values of these foods vary greatly, so research is a must. Common labels include:
"weight control"
"optimal weight"
"healthy weight"
"reduced calories"
"reduced fat"
"less active breeds"
These labels do not guarantee that the food is suitable for your dog's individual weight loss needs. Use these terms as a starting point only and follow up by reading the small print. The calorie and protein content of dog food is important.
Once you find a food with a suitable protein and calorie content, feed the correct serving size, according to your dog's calorie needs.
Remember, there is no such thing as a one food fits all approach. Especially considering the widening range of dietary trends such as grain free, gluten free, raw diets and wild foods.
As owners we are individuals and so too are our dogs. The response of one dog to a particular food will be different from another.
Use our three recommendations as a platform from which you can build upon to select the best dog food to meet you and your dog's preferences.
Looking for expert guidance and an individualized diet and activity plan for your dog? WAGSTA Wellness veterinary-backed weight programs have you covered!

Learn more about Dog Diet Programs