3 Steps to Finding the Best Dog Food for the Overweight Dog
Are you wanting to help your dog trim down but feel confused figuring out the best dog food for your dog? You are not alone! With thousands of dog foods available, it is hard to know which foods are best suited to your dog's individual needs. The following steps will point you in the right direction!

Dog Food Analysis: How to Select the Best Dog Diet Foods
When dieting your dog, feed a low calorie dog food to help your dog lose weight. Low calorie diet foods help your dog lose weight whilst meeting your dog's nutritional requirements.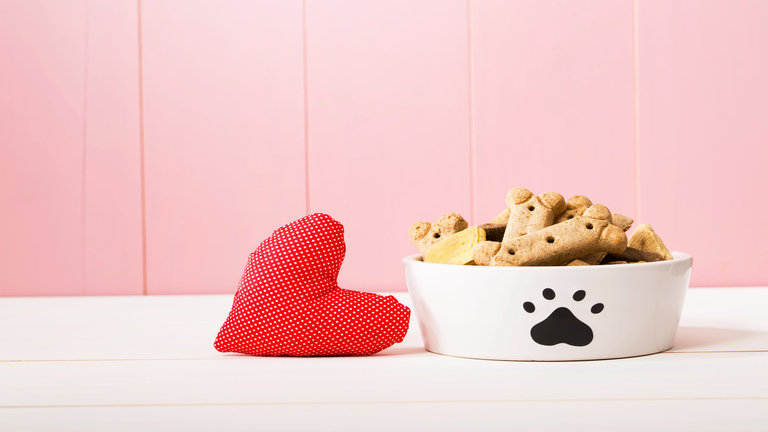 There are many types of low calorie dog food available. It is important to realize that not all are suited to your dog's weight loss needs.
Here are our top three recommendations for selecting the best dog food to transform your pooch into a slim dog:
3 Dog Food Criteria to Help Your Dog Lose Weight:
WAGSTA Tip:

When buying dry or kibble diet food make sure the calorie count is in the high 2000's to low 3000 kcal range.
1. The best dog foods for weight management are low in calories. Feed food containing a suitable calorie content.
Dog Diet Tip. Make sure you choose a dog food containing less than 3400 kcal/kg ME. The lower the kcal count the better.
Knowing the calorie count of the food you feed your dog is essential for weight loss. Calorie counts allow us to determine the correct serving size for a safe rate of weight loss.
It is difficult to slim dogs fed on calorie-rich foods. Because the serving size to meet your dog's dieting calorie allowance, will be small. Small portions leave dogs feeling unsatisfied and leave owners feeling mean.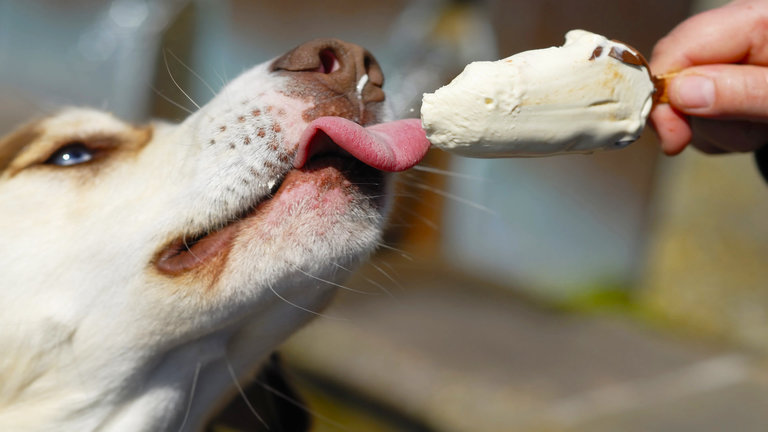 The best dog foods to assist with weight loss have reduced calorie counts. This means you can feed large enough servings to satisfy hunger levels without blowing your dog's daily calorie allowance! Learn about dog calorie needs here.
For commercial dog food, calorie content is located in the guaranteed analysis (dog food analysis) or the feeding guideline panel. This can be found on the back or sides of dog food packaging.
Prefer to feed home made dog food? Read about low-calorie homemade dog foods here.
WAGSTA Tip!

Learn to count calories on behalf of your dog!

Calories in pet foods are listed as Kilocalories (kcal).
The calorie content of dog food is expressed as:
Kilocalories/ Kilogram Metabolizable Energy.
This is often shortened to ME (kcal/kg) = X
where X will be a number, such as 3200.
You may also see the calorie content listed as:
kcal per 100g
kcal per lb.
kcal per cup
or kcal per can
depending on whether the food is dry or canned.
Link to dog food calculator and dog calorie calculator for food portion calculations.
Dog Diet Tip. Canned and wet foods contain a high moisture content. Their dilute nature means they often have a suitable calorie content for dieting purposes. Dog food calorie counts for wet foods, range in the high hundreds to low thousand Kcal/kg ME.
Need motivation to stay active with your dog? Join the pack and get active today with your free WAGSTA walkies, weight and wellness tracker.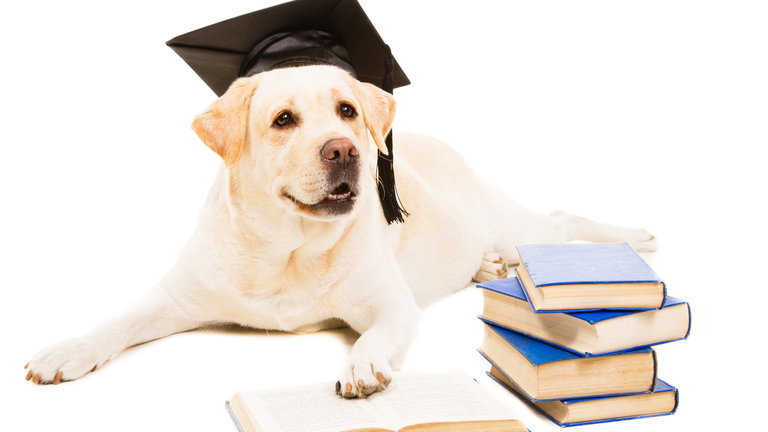 One of the first steps in dog slimming is to identify the best dog food for your furred friend.


WAGSTA Tip!

Protein is a key factor when identifying the best dog foods for canine slimming. Maximize protein to opimize your dog's weight loss results!
2. The best dog diet food for weight management contains a quality protein content.
Ensure your choice of diet dog food contains protein levels adequate for your dog's size.
Your dog's dieting protein requirement is based upon their healthy target weight or ideal dog weight. So the larger the dog, the greater their protein requirement.
Owners of medium and large sized dogs should pay particular attention to protein content when selecting diet dog foods. Many dog diet foods contain inadequate protein levels for larger breeds.
Recommended Minimum Dietary Protein Levels Per 1000 Kcal food.
Healthy Target Weight (kg)
Healthy Target Weight (lbs.)
Minimum Protein Requirement per 1000 kcal of food.
2.5kg
5lb 8oz
50 g protein/ 1000 kcal
5kg
11lb
60 g protein/ 1000 kcal
10kg
22lb
71 g protein/ 1000 kcal
15kg
33lb 1oz
78 g protein/ 1000 kcal
20kg
44lb
84 g protein/ 1000 kcal
25kg
55lb 1 oz.
89 g protein/1000 kcal
30kg
66lb 2oz
93 g protein/ 1000 kcal
35kg
77lb 2 oz.
96 g protein/ 1000 kcal
40kg
88lb 2oz
100 g protein/ 1000 kcal
45kg
99lb 2oz
103 g protein/ 1000 kcal
50kg
110lb 2oz
106 g protein/ 1000 kcal
Protein is typically listed as a percentage on most dog foods. But the protein figure used to select a suitable food for your dog is expressed as: grams protein /1000 kilocalories
Grams of protein per 1000 kilocalories = (% protein divided by kcal/kg ME) multiplied by 10,000
Convert protein percentages into grams protein using this protein conversion calculator.
Dietary protein is important for several reasons. The main benefit when dieting is providing a sense of satiety or fullness. Reducing your dog's hunger levels will help you commit to your dog's weight loss cause. Your commitment is the biggest factor in determining successful dog weight loss. (Learn about calorie restricted homemade dog food here).
Increased protein levels also help maintain muscle mass in dieting dogs. Which in turn helps to burn fat. Protein improves the taste of dog food and provides a source of essential amino acids.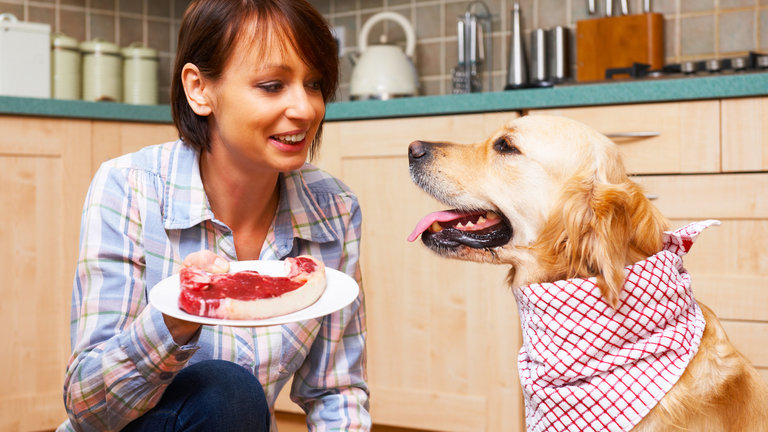 The best dog diet foods contain quality animal ingredients such as meat and eggs.
The best dog foods contain several animal based proteins in the ingredients list. Quality proteins include eggs and identifiable meats such as poultry, beef, pork and fish. Ideally there should be at least one or two quality proteins listed in the first few ingredients.
WAGSTA Tip!

Ignore the feeding guidelines on dog food packaging as they tend to be generalized and can result in overfeeding your dog. Instead feed your dog according to their individualized dieting calorie requirement. or dog calorie needs.
3. Identify the best dog food for your dog by reading the dog food analysis small print. Be label wary!
Grocery store and pet retail outlets all sell diet pet foods. The quality and nutritional values of these foods vary greatly, so research is a must. Common labels include
"weight control"
"optimal weight"
"healthy weight"
"reduced calories"
"reduced fat"
"less active breeds"
These labels do not guarantee suitability of food for your dog's individual weight loss needs. Use these terms as a starting point to find your best dog food. Then follow up by reading the small print.
Reading the nutrient or dog food analysis label is a must. Let the calorie counts and protein levels do the talking. This is the most important step in identifying the best dog food for your dog!
Once you find a food with a suitable protein and calorie content, feed the correct serving size, according to your dog's calorie needs.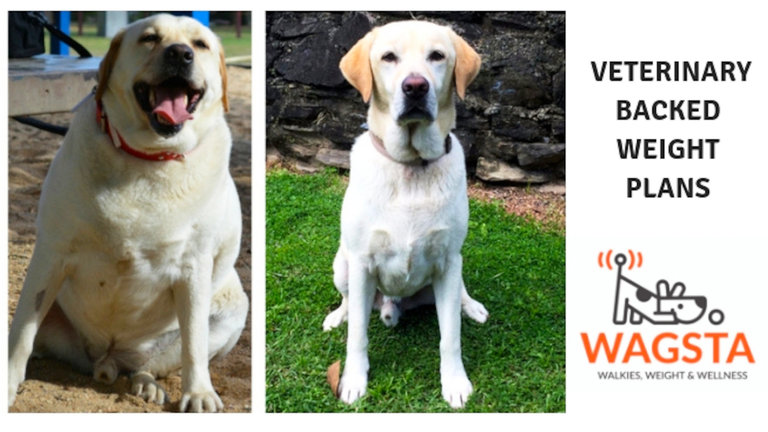 Looking for expert guidance and an individualized portion and activity plan for your dog? Improve your furred friend's longevity and quality of life through successful weight management. Find out more about WAGSTA veterinary-backed weight plans.

Learn more about Dog Diet Plan
WAGSTA Tip!

Don't be sold by flashy pictures and jargon on dog food packaging. Always read the small print, to find the best dog food for your dog!

There is a wide range of dog diet foods available on the market. And it seems an even wider range in dietary trends such as grain free, gluten free, raw diets and wild foods.

As owners we are individuals and so too are our dogs. The response of one dog to a particular food will be completely different from another. There is no such thing as a one-food-fits all approach.
Use our three recommendations as a platform from which you can build upon to select the best dog food to meet you and your dog's preferences.